VIP Reservations
Please review the calendar below for available dates and then fill out the form below. Required fields are denoted with an *. Our rapid response team will contact you shortly. Raven has a NO PARTY BUS policy on Friday and Saturday nights. Special arrangements may be available for other nights.
Check availability using the calendar below – please note – we do not take reservations for the same day of the event:
Reserve your party using the form below:
On Friday and Saturday nights a prepaid reservation fee or bottle service pre-purchase is required to secure a table / booth or space. In addition, the upstairs VIP seating area requires a 2 bottle minimum for Friday and Saturday nights. Guests who prepay and receive confirmation of their advanced reservations for Friday and Saturday nights receive a VIP guest list.
On Thursday and Sunday nights, Raven does not charge a reservation fee or require bottle service for reservations. (Exceptions may apply for certain parties).
During Club Raven on Friday and Saturday nights, our resident VIDEO DJs plays Hip Hop, R&B, and Pop Music Videos from the 90s to the new millennium. Throwback Thursdays and Sunday Encore start at 9pm with classic music Video from one of our resident DJs
Raven has four large U-booths on the main level that surround a casual dance floor. Upstairs is the main dance club where there is single private seating area with two couches and several ottomans. The back bar, a bit more secluded, can accommodate larger groups.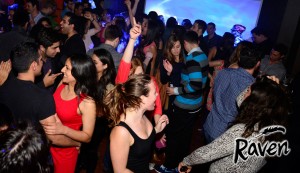 All of the reserved areas are semi-private as Raven is a loungey dance club that encourages the mingling of a diverse mix of friendly people. Many groups use the reserved seating area as their gathering spot, as guests wander upstairs to the dance club, outside to our smoking patio or visit one of our three bars for a tasty specialty cocktail. Please Note: Absolutely NO smoking or vaporizing is allowed inside the venue at any time.
Raven does not serve food but partners with adjacent restaurants and catering companies to provide snacks and appetizers. We ask that all food service be completed by 9 PM on Friday and Saturday nights.