Business Events
Please fill out the information below and our manager will contact you to learn more about the specifics of your event. The details of your event will be handled professionally from beginning to end. Required fields are denoted with an *.
Located within walking distance of San Francisco's Civic and Moscone Centers, our flexible multi-level Nightclub offers the perfect space and ambiance for large and small companies to host Private Dance Parties and Happy Hour Events.
Our beautiful venue is available for both fully private and partial buyouts to host your company or team's next off-site Corporate Event.
Upstairs Level
Private Entrance
Separate DJ booth, with microphone (Resident DJs and VDJs available)
3 large screen TVs and giant projector screen can connect to a laptop or DVD
Large full bar with 3 bartender stations
Seating area and dance floor, plenty of room for tables to display food or business products
Available every day and most evening, except Thursday – Saturday evenings (opens to public at 10pm)
Downstairs Level
2 complete bars, one in front and one in the back
4 spacious U-booths that open to a large area for gathering or dancing
Separate DJ booth, with microphone (Resident DJs and VDJs available)
5 large screen TVs can connect to a laptop or DVD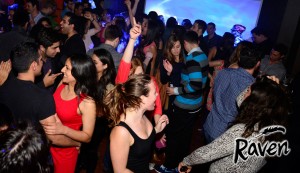 For smaller gatherings, our back bar can be reserved separately and is private yet not secluded. Equipped with its own full cocktail bar and server, our back bar allows for intimate connections in a fun environment. For larger events, both levels can be reserved.
Raven does not serve food but partners with adjacent restaurants to provide tasty treats and appetizers.