Please Check Back Soon
Temporarily Closed
— UPDATE 4/15/20
Since we can't dance here right now, we're sending the party to your home! Resident DJ Mark Andrus has selected some of our absolute favorite songs from the Club Raven Dance floor. Even though we can't be together in the club, we can still dance! We hope that you and your family enjoy this hand-picked list of club classics that you'll hear once again at Club Raven when we get past sheltering-in-place…

Sharing a quick update to make you smile! — Did you know that Club Raven has been a part SF's nightlife scene since 2012? We've been smiling while looking back through some photos taken in the club over the years, and thought it would be fun to build a "Throwback Photo Gallery". Do you have any photos to add? Send them our way, and if we love them, we'll add them to the gallery!

~~~~~~~~~~~~~~~~~~~~~~~~~~~~~~~~~~~~~~~~~~~~~~~~~
— UPDATE: 4/1/20
We here at Raven, like you, are adjusting to the new normal the COVID-19 pandemic created. These are unique and troubling times. The path ahead isn't always clear. However, we at Raven wish to thank Mayor London Breed and Governor Gavin Newsom for taking decisive action in the face of uncertainty. Our leaders are making sure that the Bay Area has been ahead of the rest of the country in "Flattening the curve" of COVID-19 and saving lives.
We value the health and safety of our customers and employees and we take this pandemic seriously. Raven is doing our part. As you know, we shut the bar before the Bay Area 'shelter-in-place' mandate was ordered..
We are SO PROUD of our elected leaders, and more importantly, we are SO PROUD of the Raven community who are doing everything they must to slow the spread of this pandemic.
Raven will be back better than ever as soon as this current crisis passes. We look forward to seeing you when we re-open. Until then, stay safe, stay healthy, stay home.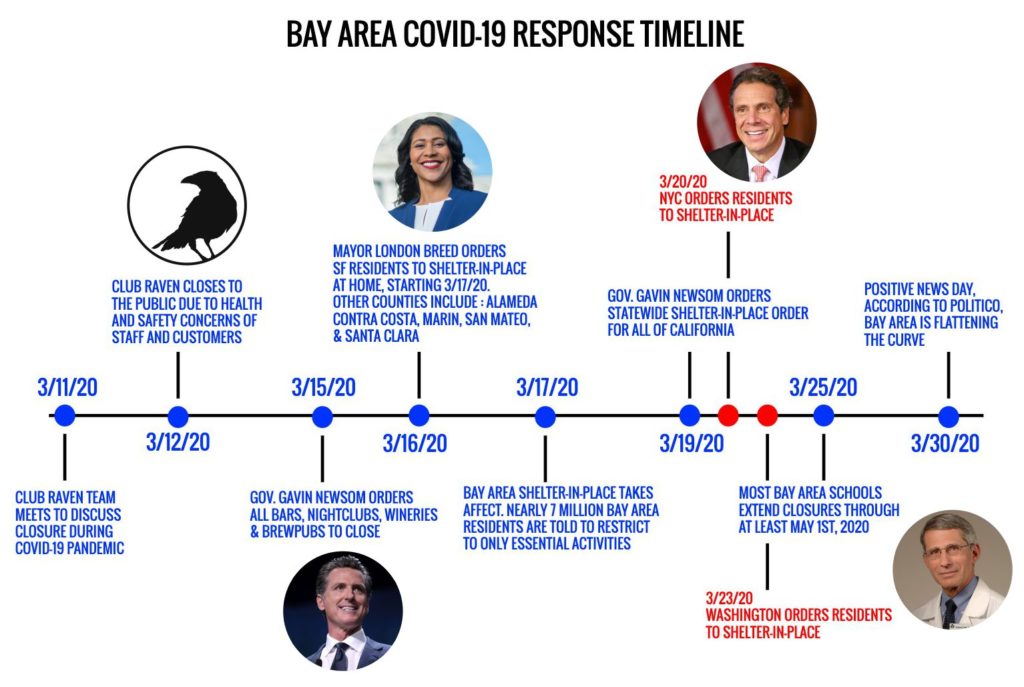 ~~~~~~~~~~~~~~~~~~~~~~~~~~~~~~~~~~~~~~~~~~~~~~~~~
— UPDATE: March 24, 2020
THANK YOU to everyone who has reached out in support during these unprecedented times that we are all going through, together. We miss you very much, and we can't wait to dance with you again.
A very special THANK YOU to our landlords who have waived April's rent expense, and have deferred May's rent to be paid over the next two years. WOW! This really helps us get through these difficult times. We truly appreciate our landlords' empathy, and hope that other local building owners will find creative ways to work with tenants to help absorb the negative impact that COVID-19 is having on local businesses. By working together, we will all get through this period of turmoil and move forward with new adventures and experiences. When this health crisis is over and life returns to normal, we will be ready to host an epic dance party to welcome nightlife back to San Francisco!
In the meantime we hope that everyone is staying safe at home, and washing your hands! Wishing everyone great health, and a positive staycation.
~~~~~~~~~~~~~~~~~~~~~~~~~~~~~~~~~~~~~~~~~~~~~~~~~
— UPDATE: March 12, 2020
Raven will be temporarily closed starting on Thursday March 12, 2020, due to the current health emergency. Please check back with us for updates on our re-opening schedule – we will post updates frequently as we have them. The health and safety of our staff and customers is our top priority. We are not going anywhere, and we will still be here playing the Throwback Music Videos you love to dance to, when this current crisis has been resolved. Thank you for understanding, and stay safe.